Frame Measurements
When ordering picture frames, always use the measurement indicated ie., 8x10 as the area for your art work or canvas size. The canvas or art to fit this picture frame would be 8x10 inches. We build all our frames to Industry standards which allows for 1/8th inch of play.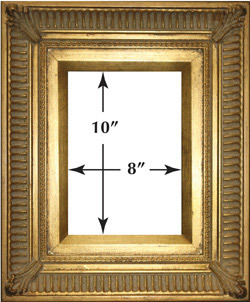 ---
Frame Rabbet Depth
We often have questions regarding rabbet depth that holds the picture frame and if a canvas (stretcher bar) will fit. It is a common practice to have the canvas stick out the back of the frame,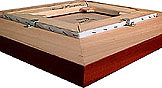 and when doing so, has the wonderful effect
of floating off the wall.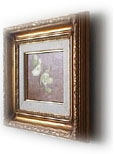 All that is needed to hold the picture
in place are frame clips.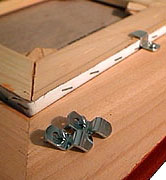 Custom Size Frames
ArtFrames.com offers the ability to order custom size frames on most styles at a fraction of the cost of retail frame shops. We felt this to be a very important addition. Art shouldn't necessarily be confined to the parameters of standard size frames. Now you can explore the boundaries of your creativity! Why the 20% up charge? Our production facilities are designed to produce high quality, meticulously crafted standard size frames. Whenever we deviate from our standard procedure, extra care and attention must be taken for each custom order.
What the customer gets is a custom frame at ready made prices!
For more information on ordering custom frames, click here.
---
Frame Corner Samples
We offer corner samples on most of our frames for a nominal fee. These are full corner samples (larger in length than shown below) so you really get a feel for the frame. Corner samples are found at the bottom of each price drop-down menu. Allow 3-4 weeks.
---
Catalogs
We do not print a catalog. Printing a catalog is costly and we would rather pass the savings along to our customers. We also introduce new styles which would render a catalog obsolete. All of our current styles, sizes and prices may be found online.
---
Shipping
ArtFrames.com offers a flat rate charge on shipping and handling. $18.95 for any order, large or small, shipped to your doorstep within the contiguous United States. Orders over $350 Ship for FREE!
We will email your tracking informations as soon as your order ships.
---
All frames are made of solid wood and are shipped fully assembled. Glass, backing and hardware is not included.
$100 minimum required on all orders.
---